Fluff and Fold Laundromat and Dry Cleaners in Anaheim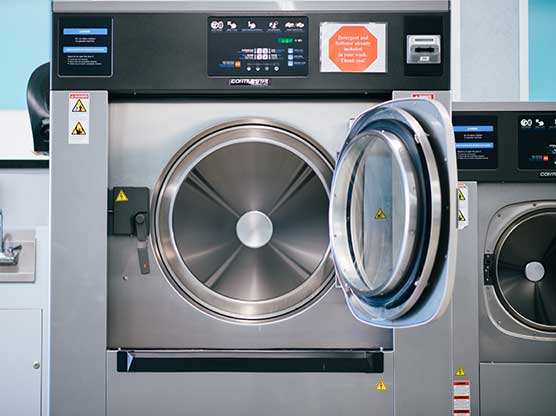 Orange County
1070 N State College Blvd
Anaheim, CA 92806
714-533-7835
Business Hours
Monday - Friday:
7:00AM to 9:00PM
*
Saturday & Sunday:
6:00AM to 9:00PM
*
Open 7 days per week

Last Wash at 8:00pm
Hours are subject to change during holiday season and national holidays
We Accept




---
This is Superior Laundry's full service laundromat in Northeast Anaheim. We're in the back corner of the Granada Square center located on State College Blvd. and East La Palma Ave. The primary cities we serve out of this location are: Anaheim, Brea, Fullerton, Orange, Placentia, Villa Park, and Yorba Linda.
Laundry Services
Our laundromat offers self-service laundry, drop off fluff and fold, drop off wash and dry, drop off dry cleaning, and pickup and delivery laundry and dry cleaning service.
Schedule your laundry, dry cleaning, or a combination order here on our website.
Come to this laundromat location for fluff and fold laundry, self-service laundry, and dry cleaning. Get your laundry and dry cleaning done at the same place at the same time!
Drop off Fluff and Fold Laundry: After you drop off your laundry and prepay, we wash, dry and fold your laundry. Ready for pickup the next day.
Self Service Laundry: Use our laundromat's ozone sanitized washers and dryers to do your laundry yourself
Drop off Dry Cleaning: After you drop off your dry cleaning, it will be ready for pickup in two-business-days.
Laundromat Features
This laundromat features machines and equipment that will give you superior results for an affordable price.
Cleanest Laundromat in Anaheim
Ozone Sanitized Washer System: Ozone water sanitizes your laundry and the washing machine during the wash and rinse cycle. Not only is your laundry germ free, it will feel softer and smell fresher too!
Antimicrobial Laundry Carts: Our laundry carts are coated with an antimicrobial finish that inhibits the growth of microbes like bacteria and fungi.
Washers and Dryers
Washing Machines: 2-load, 3-load, 5-load, 8-load, and 10-load washers.
Extra Cycles: Newest machines offer optional wash, rinse, and spin cycles to let you customize your wash.
Dryers: 30-pound, 50-pound, and 80-pound capacity dryers.
Comfort and Convenience Features
Card-operated laundromat: No more hassling with coins!
Accepts credit cards: We accept Visa, Mastercard, and Discover cards. Use your credit card to pay for fluff and fold, dry cleaning, or to reload your laundry card.
Tankless water heaters: Energy efficient tankless water heaters ensure a constant supply of hot water, even during peak demand.
LED lighting: LED lighting in the laundromat ensures the store is always well-lit.
Kids Area: Keep the kids entertained with cartoons, children's movies, and books.
Free Wi-Fi: Stay connected while you get your laundry done.
Cable TV: Watch your favorite television programs in the background as you do your laundry.